I have stuff to give away. And there's no point in keeping it in any longer.
I was going to wait until I hit 200, but...meh. I like you people too much. And, let's face it, I've been neglecting you lately. There's no sense in my whole world revolving around me and my blog. That's just silly. It should be about you and what you want. And I
know
you want these books.
How do I know that?
Because they are awesome.
BOOK 1:
An ARC of
Forgive My Fins
by Tera Lynn Childs!!!!
OMG, the cover is so gorgeous it makes me squee.
BOOK 2:
A signed hardcover copy of
Goth Girl Rising
by Barry Lyga (donated by the author)!!!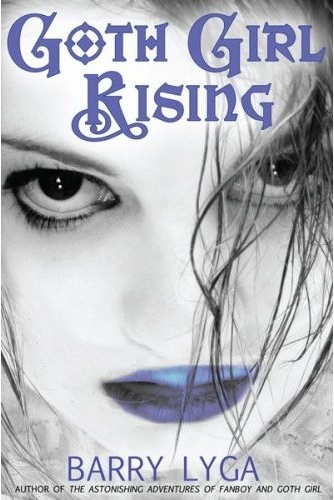 A creeptastically perfect use of more blue lipstick
.
MISC. BOOK-RELATED ITEM 3:
Bookmarks, swag, notebooks, etc. Including something that I whittled. (No, really! OK, I won't whittle it, but I will hand-make it.)
And, if I hit 200 followers during the contest, I'll add
another
book...but you won't find out what it is unless I have to give it away! (Hint: It's by a debut author. It was released this year. And it's awesome. But that doesn't really narrow it down, does it?)
Want to enter? It's simple! Just click here to fill out the form! (Or scroll to the bottom of the post and fill out the embedded one. But it looks kind of wonky because it doesn't fit in blogger's frame.)
You must be a follower to win! Giveaway closes at midnight on Wednesday, May 12. Winner announced on Thursday May 13 (chosen using random.org)
Good luck!
Embedded form: